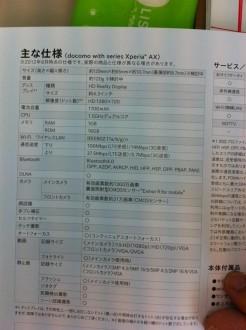 DoCoMo image catalog to be published in the "Xperia AX SO-01E" was leaked as winter models.
Content is a little old by the specification and as of August 2012, you can get some new information.
Specs are as follows.
It should be noted, have incorporated the known information from manufacturers and already been announced.
Under consideration ※ (8.7mm about the thinnest part) 10.7mm about 129 × 65 × about about: terminal size

Weight: about 120g ※ under consideration

Display: 4.3 inch HD (1280 × 720) HD Reality Display

OS: Android4.0.4 Ice Cream Sandwich

CPU: 1.5GHz dual-core

RAM: 1GB

ROM: 16GB

External Memory: microSD / microSDHC (32GB Max)

A back-illuminated CMOS 13 million pixel camera:

310 000 pixel CMOS: Front camera

IEEE802.11 a / b / g / n: LAN wireless

Bluetooth: 4.0 (SPP, A2DP, AVRCP, HID, HFP, HSP, OPP, PBAP, PAN)

DLNA: ○

Xi: ○ (37.5Mbps uplink 100Mbps / down)

Osaifu: ○

NFC: ○

Seg: ○

Infrared communication: ○

Waterproof and dustproof: ○

1,700 mAh: Battery Capacity

Color: Black, white, pink, turquoise

Accessories: headphones with microphone, Seg antenna, microSD Card, Desktop Holder
Basically the Xperia V will be based is the same content, ROM seems to have been changed to 16GB.
It has been listed as such in the documentation at the time of passing through FCC, is a fact.
Battery capacity seems to decrease slightly from 1,700 mAh to 1,750 mAh also.
· · · It should be the same BA800, How does the battery pack.
The communication speed have been described to be up to 100Mbps when receiving LTE.
DoCoMo recently there was a news report that starting from February next year, which is faster to Xi 112.5Mbps, faster seems to be done in stages.
(This catalog or just old?)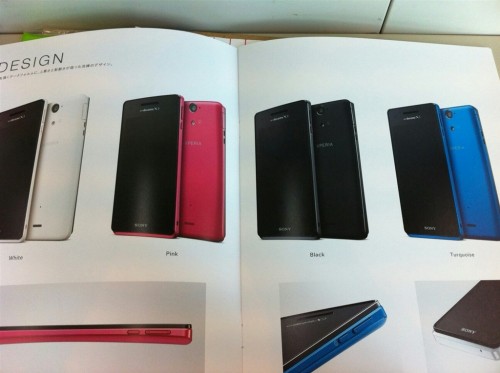 It is a page that is loading terminal image.
It seems to be a "turquoise" The name of the blue.
In addition, there is a blue pattern version also au.
It is unknown whether the color is exactly the same, however.
The same as the Xperia SX SO-05D, Seg antenna accessory is plugged into the audio jack to use.