Yandeks.Kassa mini terminal for smartphones will pay card
Yandex launched a new project Yandeks.Kassa: a special application for smartphones plus a small mPOS-terminal plugs into the headphone jack - together they help to pursue the payment card is literally "on the run", having only a mobile device.
The first test the Yandeks.Kassu Moscow taxi drivers of "Taxi Rhythm", a partner Yandeks.Taksi.
Four machines with terminals Yandeks.Kassy already appeared in the capital, and later Yandex plans to install more terminals 200-300 cars, collect reviews and begin public testing service.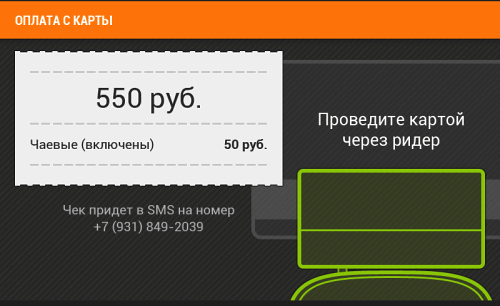 The taxi driver has a smartphone with an application and a portable mPOS-terminal.
The passenger can use it to pay off a card - any: Bank Card Yandex, debit card or credit card.
At the end of the trip the driver enters the amount from the counter and shows her passenger, the passenger confirms the amount and adds a tip (if desired).
Then the passenger dials on the device's screen and your mobile device without having to return to the driver itself handles the card through the reader, the signs on the device's screen (finger) and takes his card, the driver returns the smartphone.
At about the same time on the mobile number entered, an SMS with the receipt of confirmation of payment.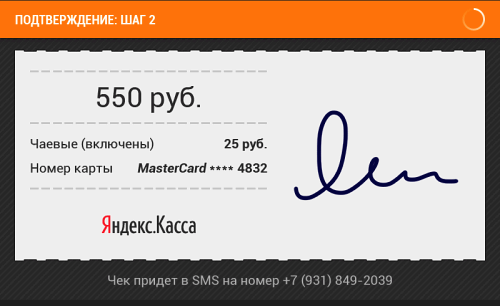 Card data is encrypted in the device and reach in encrypted form to a secure server environment.
Each device has its own individual key.
At each new transaction generated a unique encryption key according to technology DUKPT, recommended international safety standards in the payment card industry (Payment Card Industry).
The taxi driver does not have access to the data card - all information that falls on his device, encrypted cryptographic encryption algorithms.
Yandeks.Kassy partners - the company SellbyCell (technology service provider) and VTB 24, with the support of the payment system MasterCard.