Russian Emergencies Ministry has developed and launched the application "Mobile lifesaver" for devices based on the operating system Android, which allows one-touch call online services and to notify relatives of trouble.
You can download it for free in the shop
Google Play
, where the application is already there.
On the main page of the application is available red button "Send signal SOS".
The touch of a man she can call the emergency services and alert SMS-message friends, relatives and acquaintances, that he was in a state of emergency or there is an emergency.
This is possible when downloading the application, the user has made ​​to emergency contact telephone numbers of their relatives that when you click on a message will be sent automatically.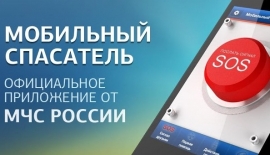 The "Send signal SOS" allows you to call emergency services from anywhere in Russia, because the application automatically detects the region in which the people, and mobile operator, which is used by a subscriber.
Additionally, the application "Mobile Rescuer" contains references.
They demonstrate how to provide first aid and rules of conduct in different emergency situations.
Use them to find the nearest emergency services - fire department, rescue squad, police department and the medical facility with the location of the person.