New line of tablets teXet NaviPad
The company "Electronic systems" Alkotel "introduced a new line of tablets NaviPad, which opened teXet TM-7045 3G and TM-7055HD 3G. These devices combine all the advantages of previous models teXet, as well as opportunities in the form of built-in modules, 3G, GPS, Wi- Fi and Bluetooth. Diagonal screen NaviPad new tablet is 7 inches. At teXet TM-7045 3G mounted TFT-LCD with a resolution of 1024x600 pixels and a teXet TM-7055HD 3G - IPS-display with a resolution of 1280x800 pixels.
New function on OS Android Jelly Bean, in a "junior" version of the product line is installed 4.1.2, while the second model NaviPad has the most modern version 4.2.1 with an updated interface. teXet TM-7045 is equipped with a dual-core CPU 3G MediaTek MT8377, and teXet TM-7055HD 3G - a quad-core MediaTek MT8389. Memory device is 1GB, and the size of internal memory - 4 GB in teXet TM-7045 and 3G 8GB at teXet TM-7055HD 3G. in both devices can be installed microSDHC card up to 64 GB.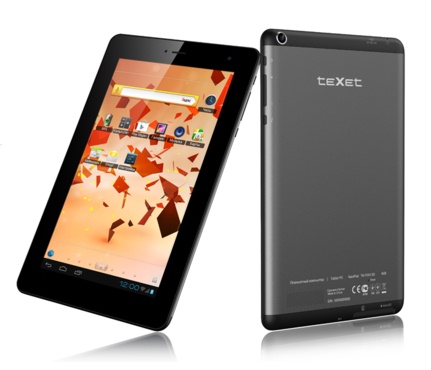 The main feature of the new tablet is the built-in 3G, speed of receiving data from teXet TM-7045 3G up to 7.2 Mbit / s, while the teXet TM-7055HD 3G can achieve 42.2 Mbit / s.
Furthermore, in models of voice call function is implemented.
According to the company, NaviPad - this is a new generation of devices that can effectively deal with the same challenges and the tablet, and the navigator, the plate teXet TM-7045 3G pre-installed demo version of "Navitel Navigator" and the TM-7055HD 3G - demo "SitiGID" .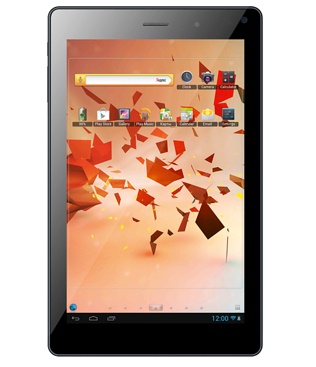 In addition, the model NaviPad a 2 megapixel main camera and a 0.3 megapixel front for video calls.
teXet TM-7045 3G and TM-7055HD 3G supports most popular file formats, images, audio, video, including high-quality 1080p/Full HD.
For the exchange of multimedia content with other users provided Wi-Fi 802.11b/g/n and Bluetooth 4.0.
teXet TM-7045 3G and TM-7055HD 3G enclosed in a thin metal housing, made in two colors (black / titanium or white / silver).
The suggested retail price teXet TM-7045 3G is 5999 rubles, it is available from the manufacturer, and as soon as the tablet goes on sale in the retail network "MegaFon".
The suggested retail price teXet TM-7055HD 3G is 7499 rubles, sales will start in the first half of July.